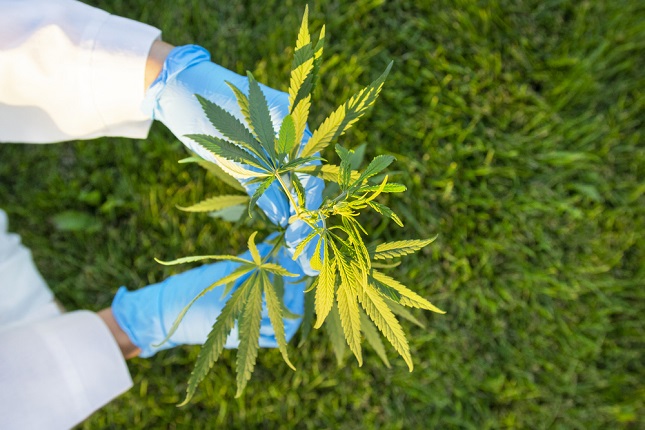 Canada, January 14, 2020 (420 INTEL)- Cannabis 2.0 is coming soon to Canada — and one Alberta business hopes to be on the ground floor of this growing industry.
"We're trying to reduce the risk and eliminate the barriers of entry that many people are having trying to get into the cannabis business," said Lindsay Blackett, CEO of the Grasslands Taber Collaborative, a 60-acre business incubator focused on premium craft cannabis and hemp production, processing, and promotion.
"It's a very complex, regulated market, and it's an expensive market to get into. It's really hard to get in for anything less than $1 million.
"We just want people to be able to produce the quality the market wants and provide a living for themselves."
The cannabis industry exploded almost overnight when the drug was legalized for recreational purposes in October 2018, nearly two years after the federal government first announced it would be decriminalizing cannabis. In that initial rollout, only limited products were available, including pre-rolled joints and loose flowers for smoking, oils, sprays, and capsules.
Cannabis 2.0 is expected to roll out in Alberta this month, with cannabis-infused products like edibles, beverages, concentrates, and topicals (lotions and balms), planned for that phase.
But building a new industry from scratch came with some growing pains, said Heather Holmen, manager of communications at the Alberta Liquor, Gaming, and Cannabis Commission.
"When legalization first came into effect, there was a lot of anticipation," said Holmen. "You can appreciate that there was a lot of excitement for something essentially coming out of prohibition into the legal market.
"But it's not anticipated that cannabis will generate a wholesale profit from sales from private retailers for a few years. It is a brand new market."
Officials from the Grasslands Taber Collaborative and the Town of Taber had a ceremonial sod-turning in November on a 60-acre business incubator for craft cannabis and hemp products.photo: Town of Taber
Just one month after legalization, the commission issued a moratorium on cannabis retail licensing in the province as a result of a nationwide shortage of product and a licensing backlog at the federal level. Supply didn't start to pick up until January 2019, at which point there were 75 retail locations across Alberta.
Those numbers took off at warp speed when the moratorium was lifted in May, and today, there are 384 brick-and-mortar retail locations across Alberta — "more than the rest of Canada combined." There are 43 federally licensed producers who provide for the Alberta marketplace.
"Supply was the biggest challenge last year, but now that the market is moving and there's more producers entering the recreational cannabis market, we're seeing some sustainability," said Holmen.
"Everyone is watching now to see what's going to happen. We've got some comfort with the initial launch of legalization over the past year, and now we're moving into different product lines."
Part of the challenge was the lack of a ready-made supply chain, said Blackett.
"The problem is, right now, there's no infrastructure for it," he said. "If you can imagine being a wheat farmer without a grain terminal, that's what we have. We need to create the infrastructure.
"It's not enough to just say you can grow X amount — you have to have a customer for it and a price."
Cannabis supply chain
There are four different parts of the supply chain — growers (usually called cultivators), those who extract oil, processors of products made with the oil, and retailers.
Cannabis consumers want products with THC (tetrahydrocannabinol). THC can be consumed by smoking the buds of the marijuana plant, by using topicals and by ingesting oils, edibles (food products that contain THC), capsules, and beverages. But cannabis (and hemp) also include a compound called CBD (cannabidiol), which contains none of the psychoactive properties of THC but is purported to help with a variety of health issues, including chronic pain, anxiety, and depression.
Some large-scale cannabis companies cultivate and process their own crops (sales are done through federally and provincially licensed retailers), but for smaller operations, the expense and the regulations are a significant barrier.
"Our industry is silos — nobody works together," said Blackett. "A cultivator can grow, but they don't always have somebody to buy the product from them. They don't always have somebody to extract it for them. But the extractors are having a hard time finding feedstock, and a really hard time getting quality feedstock.
"As we roll out cannabis 2.0, there's no quality feedstock, and we don't have extraction capacity to make the feedstock that most of these people are going to need to make edibles, concentrates, and topicals."
The Grasslands Taber Collaborative (a startup owned by PeakTerra Ventures, a Vancouver investment company focused on cannabis) hopes to address that issue by building a supply chain in one convenient location.
Initially, the facility will have a 50,000-square-foot 10-bay micro-cultivation facility, a 10,000-square-foot extraction and processing facility, and a 50,000-square-foot 20-bay facility where tenants can turn raw product into processed goods. The first phase is expected to break ground in April, while a second phase of five buildings will get underway in October and include a cannabis retail outlet, nursery supply store, restaurant, and offices.
At the site, tenants will have access to a team of master growers, growing equipment, electricity, water, processing facilities, and distribution networks.
"Basically, they'll pay us a fee for that, and we guarantee we will buy that product from them at a fixed price over a five-year contract," said Blackett.
"They don't have to worry about a glut in the market or who they're going to sell it to. If the market drops from $5 a gram to $2 a gram, it doesn't matter — we're buying it at whatever price for the extractor, who's going to make $25 to $40 per millilitre.
"So the extractor is making money, and the cultivator is making money. Everybody has to make a decent margin on that to keep them all sustainable."
Premium pot
This type of micro-cultivation — a new concept in Canada, with only nine licensees across the country — will also help to address quality issues, Blackett added.
"We've started to see in the last three or six months that these businesses are in trouble because people are not happy with the quality of the product in the retail market," he said. "The black market — still 88 per cent of the market — is focused on quality and service, and people forget that. How do you beat an industry by not even recognizing what it does well?"
The Grasslands Taber Collaborative hopes to draw on the expertise of the black market cannabis industry by turning illegal growers into legal ones.
"Some of our large multibillion-dollar companies started out with illegal growers who cut their hair, put on a suit, and got an MBA on board," said Blackett. "If we are truly serious about putting a dent in that black market, we have to learn to be better at what it does, and that's better quality and better service.
"The consumer will always decide, and right now, they've decided to stay with the black market."
Right now, Alberta has 40 per cent of the medical cannabis market — estimated at around 80,000 people — and almost 50 per cent of the retail market, but only 10 per cent of the country's cultivation. Blackett is banking on the fact that consumers will pay a premium for high-quality cannabis.
"We're a premium product market in Alberta, so we're focusing on companies that are bringing in premium products. That's what the medical cannabis market is looking for. That's what the discerning consumer is looking for," he said.
"We're not going to be the Ford Explorer of cannabis. We're going to be the Lincoln Navigator."
Cannabis 2.0
And this could become big business for southern Alberta, with its long growing days, easy access to transport, and "premier food corridor" of cash crops that can be infused with THC or CBD, he said.
"Everyone focuses on the cannabis and hemp market, which is less than $2 billion. But if you look at the nutraceutical market, that's $50 billion, and the natural products market is almost a trillion dollars in North America," said Blackett.
"There is an opportunity to start using potatoes, lentils, soybeans, sugar beets, wheat, corn — all those cash crops that are available in the premier food corridor that may be infused or simply sold on Amazon as natural products.
"It's a big opportunity, and we want to double down on it — especially in southern Alberta, with its agricultural history and expertise."
If financing comes through, the Grasslands Taber Collaborative also hopes to build a hemp terminal to process both for the fibre market and the food market.
"We don't want farmers to have to go through another winter with a cut off the CBD flower and watch the rest of their plant rot in the field," said Blackett, adding they hope to have hemp processing in place for harvest of 2021.
"It's just a good crop that can do so many things, and I think over time, we're going to see CBD overtake THC as the most sought-after product. It can be part of that trillion-dollar natural product market. But first you have to have the infrastructure to be able to process those different byproducts.
"I know farmers in western Saskatchewan have had to transport their hemp biomass to Vancouver. Taber is a perfectly situated hub for this."