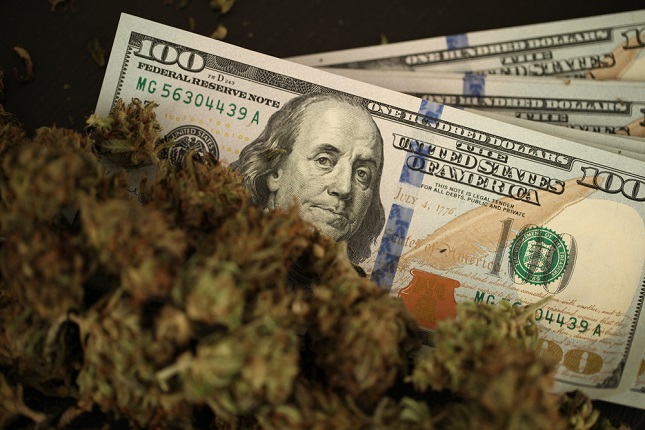 U.S, August 7, 2019 (MARIJUANA BUSINESS DAILY)- It's no secret that the number of business relationships between American and Canadian cannabis interests has skyrocketed since federal legalization went into effect north of the U.S. border.
From a high-level perspective, it's a simple trade: money for market access. That's particularly true in California, which has no in-state residency requirement for cannabis companies and is one of the most attractive – and sizable – marijuana markets in the United States.
"Anecdotally, it's certainly in the hundreds of millions of dollars, if not more. So, it's vast," California marijuana attorney Joe Rogoway said about the scope of business dealings between Canadian interests and California MJ companies.
According to the monthly report, companies either based in the United States or that run U.S. operations dominated CSE cannabis financing deals in the first half of 2019, to the tune of $878 million (CA$1.16 billion) out of a total of $1.2 billion raised.While the actual number of deals is hard to pin down because many simply aren't made public, one benchmark is a June report from the Canadian Securities Exchange (CSE), which has drawn a host of U.S. cannabis businesses seeking more access to capital.
And of that, operations tied to California seized 17%.
Cannabis companies with operations in California raised more than $218 million as of June through 19 financing deals, according to the report. The next-closest state in MJ financing deals through the CSE was Florida, with $167 million.
Not only that, but an analysis released in June by professional services firm MGO/Ello Alliance found there's still roughly 20 times as much venture capital being invested this year in the U.S. marijuana market as there is in Canada: $1.2 billion versus $60.5 million, respectively. And much of that money is likely making its way into California.
Here are just a few high-profile examples of Canada-California marijuana business deals:
Toronto-based DionyMed Brands in July acquired a cultivation facility, retail storefront, manufacturing facility, distribution hub and delivery fulfillment center from Southern California-based MM Esperanza 2 for $13 million in cash and $6 million in stock.
Toronto-based Sol Global Investments in May acquired Northern Emeralds, a cultivation and distribution company based in Humboldt County, and six California storefronts. Sol Global paid $120 million in stock for Northern Emeralds and $17 million for the six shops, including $5 million in cash and the remainder in stock.
Ontario-based Origin House was acquired in April by Cresco Labs, headquartered in Chicago, for a whopping $823 million in stock. At the time, Origin House already had rolled more than 50 California MJ brands into its portfolio.
Toronto-based TerrAscend in February acquired San Francisco retail chain The Apothecarium for $73.7 million in cash and another $44.7 million in stock.
A two-way street
Aside from the sheer size of California's market potential – more than $4 billion in recreational MJ sales in 2019 alone, according to the Marijuana Business Factbook – the lack of a state residency requirement for ownership stakes is one of the biggest drivers in how many deals are being struck between California operators and foreign interests.
And while California businesses are using Canadian markets and investors to raise more money, Canadian operators also see it as a way to get a foothold in the U.S. market while cannabis remains federally illegal.
Federal prohibition means the biggest stock exchanges such as the New York Stock Exchange and the Nasdaq remain off-limits to plant-touching companies.
"Californians would not have needed Canadians were it not for the fact that the Canadian capital markets were first to legalize federally," observed Marc Lustig, the CEO of Origin House, a Canadian firm that acquired dozens of California MJ brands before being acquired by Cresco Labs.
As soon as the United States flips the legalization switch, Lustig said, all of that will change as American companies start listing on domestic stock exchanges.
In the meantime, it provides a "huge opportunity" for Canadian companies to capitalize, added Paul Pedersen, a former consultant and CEO of Vancouver, British Columbia-based Nextleaf Solutions.
Pedersen estimated there likely have been 50-100 acquisitions, investments and other types of transactions between Canadian interests and California operators.
"It's very un-American what's happening, in the sense that U.S. companies are being held back, and it's really to the benefit of Canadian companies," Pedersen said.
"As long as the U.S. stays federally illegal, it's a huge opportunity for Canadian companies, because it's a valuation premium.
"What Canadian companies can raise money at, versus companies that … can raise money in the U.S., it's not even close."
Other benefits Canadian companies will likely get from U.S. operators, Pedersen said, are production processes for concentrates, edibles and similar goods since only MJ flower was initially allowed in Canada and the nation's extraction market won't launch until later this year.
Meanwhile, plenty of California operators are seeing green with the help of Canada's markets and investors.
"This is the early first steps of global cannabis," said Hezekiah Allen, a longtime California marijuana advocate who's now running Emerald Grown, a cooperative of small-scale growers from the Emerald Triangle.
In June, Allen was appointed president of Toronto-based Global Cannabis Investors (GCI), which he said is investing millions into marijuana infrastructure in California to further build out the Emerald Grown brand.
That includes at least two distribution facilities that are already under construction, Allen told Marijuana Business Daily, and it's a step that Emerald Grown and the growers wouldn't have been able to afford without the help of GCI.
"Without outside capital, we'd probably be three to five years away from being able to build these facilities. So for us it was really about finding the right partner, someone who had skin in the game," Allen said.
He also noted the partnership between Emerald Grown and GCI will allow him to export intellectual property – and its brand – all over the world, even if California-grown marijuana can't yet be legally shipped outside the state. That could be an enormous leg up for the future of any U.S. marijuana business.
Changing ownership
The altered landscape has sparked at least some resentment in certain quarters among both Californians and Canadians.
For the former, it's a sense of losing ownership over a longstanding cannabis market that has global name recognition and immense value. For the latter, it's partial frustration that foreign companies are using the CSE to raise money with arguably little direct benefit to Canadians, sources said.
"I do see Canadian money coming in and taking over California," said Vincent Ning, the CEO of San Francisco-based distributor Nabis. "Everyone in Canada really wants a piece of the California pie, and they're dumping money into this space – not thinking of the economics of the market – and kind of ruining it."
Ning said Canadian-led companies helped start the recent trend of slotting fees in much of the California retail space, which he argued hurt only the state's small legacy operators.
Canadians, however, generally feel that they have just a few years to make the most of their legal advantage.
"We are the underdog here, and we have a brief window of opportunity where it's legal here and it's not over there," said Andrea Hill, a Toronto-based cannabis attorney.
"There's a long runway for people to build up followings (in California and across the U.S.) … and try out new things and be successful at it. In Canada, there's not much of a runway at all."