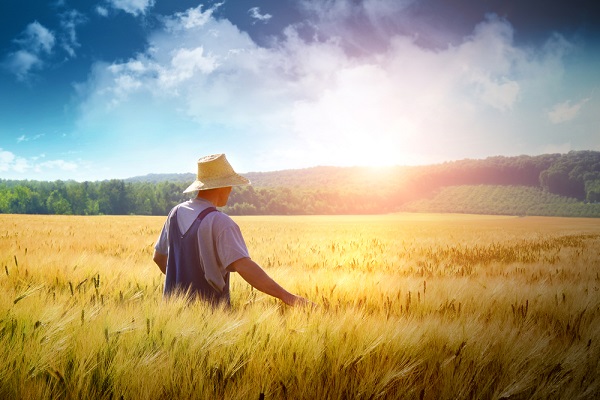 U.S. March 23, 2020 (Hemp Industry Daily)- Farmers had been holding off on buying hempseed and young plants this spring.
But as the global coronavirus outbreak continues to ravage the U.S. economy and municipalities and states have begun to mandate shelter-in-place orders, producers have been reaching out to confirm their orders and are eager to get their crops planted this season, according to young-plant producers.
As federal authorities assemble coronavirus relief packages, the U.S. Department of Homeland Security issued guidance Thursday that included food and agriculture among the 16 essential industries that are critical to continuing operations, which means hemp farmers shouldn't be restricted from planting.
"We have had more farmers calling and looking to nail down a plan and ensure that they have plants," said Josh Schneider, CEO of San Diego-based young-plant supplier Cultivaris Hemp.
"There is a lot of concern, but it's often tempered by the fact that farmers are in the field and not mainlining cable news, so they have a more circumspect view of the pandemic.
"They are already a bit socially distanced because it's spring and they are busy in preparations for the coming planting season."
The Hemp Mine, a breeding company and young-plant producer in Fair Play, South Carolina, hasn't seen any delayed sales because of coronavirus yet, according to co-owner Travis Higginbotham.
"We are actively working on multiple accounts that are making sure their orders are in," Higginbotham told Hemp Industry Daily.
"From our perspective, stock production is in full swing, plants will continue to grow and planting end of May, beginning of June is still at top of mind for many farmers."
Brands ordering less
Cannabis sales across the board have increased during the coronavirus pandemic.
But the hemp industry – starting with farmers – should not plan on that being the norm and continue to perpetuate the hemp oversupply problem that has driven down prices for the supply chain over the past year, cautions Chase Terwilliger, CEO of Denver-based CBD brand Balanced Health Botanicals.
It's likely those sales will start to lag, he said.
Because of delayed CBD rules from the U.S. Food and Drug Administration, which has slowed consumer demand, the hemp industry is already weak, Terwilliger said, and brands such as his are scaling back.
That will affect the entire supply chain, from the farmer to the retailer, he said.
"We're frankly not ordering the normal amount from our processors, because we're not only preparing for a downturn but we need to manage our cash and inventory more effectively," Terwilliger told Hemp Industry Daily.
"So that's going to affect them, but it will also affect the farmers who are already hurting in a big way from not being able to sell much if any of their crop because of the FDA regulations."
Delay in young-plant orders
Farmers were slow to commit to buying young plants before the coronavirus outbreak's massive impact on the United States, but the scare hasn't helped, said Frank Yaun, ornamental and hemp sale manager with Speedling, a greenhouse young-plant producer based in Florida.
One year ago, farmers were clamoring to find seeds and young plants, eager to get started with their hemp planting seasons.
This spring, however, some plant breeders and young-plant suppliers are seeing a measured decline in sales as farmers hold off on purchasing genetics.
"This has been a huge waiting game," Cultivaris' Schneider said.
"Many farmers are holding off on buying decisions until they can understand the USDA's intention to adjust the ridiculously short harvest window requirement and total THC vs delta-9 (THC)."
Interest in high-CBG varieties is strong, with most farmer commitments so far focused on those varieties because they address compliance issues by giving farmers a little bit of breathing room on THC levels, he added.
The difference between the two seasons is definitely impacted by the continued uncertainty in the regulatory environment surrounding the hemp industry, said Jonathan Vaught, CEO of young-plant supplier Front Range Biosciences in Colorado. But he also attributes the delay to better planning among farmers.
"We're certainly seeing folks be more cautious and thoughtful about their farm plan versus a year ago. Once the Farm Bill passed, everybody wanted to grow this crop and we saw a lot of new farmers try to get into this.
"A lot of them realized that there were challenges and that it needs to be done cautiously and thoughtfully with a good plan in place."
End game
Still more new farmers coming online in big states such as California, Florida, Georgia and Texas will cause another rush late this season, Yaun said. Speedling is gearing up, with facilities in three of those states, he said.
Schneider agrees, saying the uncertainty surrounding the industry is a "business killer."
"I think the market will move, but it will be a bit too much like last year for my taste – mostly late and always urgent," Schneider said.
"That's not a recipe for success in any agricultural crop."
But that has been the nature of hemp as a nascent industry with new farmers just starting to figure things out, having issues with their suppliers or adding to their acreage at the last minute, according to Mike Leago, chief operating officer for High Grade Hemp Seeds and president of the International Hemp Exchange, both in Denver.
"The hemp industry has always been running much further behind than other agricultural crops in terms of planning and purchasing genetics, whether it's seeds or clones," Leago told Hemp Industry Daily.
"It seems like March is when things start to gain traction, and April, May, June is when things really pick up.
"Last year we thought things were going to be wrapping up in June, but orders were still coming through September."