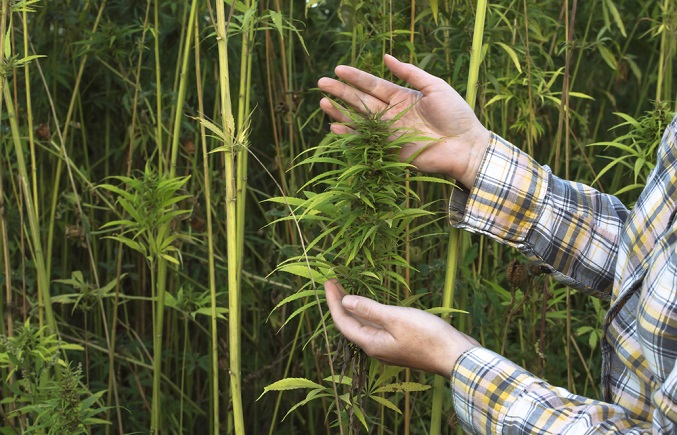 U.S., October 8, 2019 (HEMP INDUSTRY DAILY)- First-time hemp farmers who hurried to cash in after the crop became federally legal may be the biggest losers of this crop year, experts say.
Congress legalized hemp to bring a new crop to farmers hurting from depressed markets, low prices and crop tariffs.
But with hemp acreage up more than 300% this year, according to industry advocates, the crop that was meant to help could actually end up driving small farmers out of the business.
"My prediction is that there will be a 95% attrition rate at the farm level when these economic conditions materialize at the end of the year," said Michael Brubeck, CEO of Centuria, a hemp processor and extraction company based in Carson City, Nevada.
Hemp farmers, consultants and processors told Hemp Industry Daily they are seeing an oversupply of the crop that may not make it out of the fields. That's because many inexperienced farmers:"The irrational behavior of the hemp market has been fueled by a combination of artificial scarcity and speculation, which stems from regulatory restrictions prior to the 2018 Farm Bill and inexperienced farmers not converting anywhere close to 100% of their permitted acreage into a salable raw ingredient."
Didn't make harvest plans.
Found hemp to be more challenging to produce and harvest than expected.
Didn't have a contract to sell their crops.
"A lot of people were so worried about securing genetics and getting planted that they kind of kicked the can down the road and thought they'd figure it out in September or October," said Brian Griffin, hemp supply manager for Mile High Labs, an extraction company in Broomfield, Colorado.
"And guys relying on third parties to harvest and dry are finding that there is no capacity left to help them get it out of the field and dried and bagged."
The season's challenges could end up really hurting small farmers, according to Griffin.
"I think a lot of people are going to lose this year for a number of reasons, and I think we'll see a pullback of smaller farms," he told Hemp Industry Daily.
Processing problems
In Tennessee, where the number of hemp farms increased by 1,500% to 3,600, a "couple hundred" of those also attempted to enter the processing business, but it didn't go so well, according to Harold Jarboe, a hemp consultant at Tennessee Homegrown, a Nashville-based hemp and CBD company.
"This (season) was a combination of ignorance, arrogance and greed," Jarboe said.
Assuming new farmers did make it through the season with all its challenges – from inconsistent genetics to extreme weather and a labor shortage – some processors reneging on contracts and prices were the last straw, he said.
"A bunch of the processors gave them verbal contracts and said, 'We will pay you this much, and we can take all that you can produce,' which is a quote that I hate in this business because it is bandied around" without specifics, Jarboe said.
But some new processors underestimated costs and overestimated their own capacity, he explained.
"It doesn't matter whether or not there is a demand for hemp or not if it can't be processed," Jarboe said.
And with no firm baseline for prices, processors are taking advantage of new farmers, according to Jarboe.
"Basically what the person across from me is willing to pay at that moment is what (hemp) is worth," he said. "There is no intrinsic value. There's no stock market you can check.
"So, right now, people are getting beat up bad over prices."
In some cases, Brubeck said, hemp businesses may end up "fire-saling" their product to try to recoup costs.
"Oversupply in farming is happening right now," Brubeck said.
Farmers who can store their hemp until February or March may get better prices than if they dump hemp on the market in November or December, Jarboe said.
Controlled growing or free market?
Many states don't require farmers to have buying plans for their hemp crops.
This includes Kentucky, which once required farmers to show proof of contract before they were permitted to grow the crop. Kentucky dropped the requirement earlier this year.
"The governments that are overseeing these programs aren't forcing the farmers to do their due diligence and get a letter from a company that's guaranteed it's going to buy," said Brian Furnish, a hemp consultant and farmer of 400 acres in Cynthiana, Kentucky.
Hemp Industry Daily asked Kentucky agriculture officials about the change. The agency called it a natural transition from a research phase to full commercialization.
"People should generally be available in a free market to make their business decisions about when and how they would like to shop their crop," Kentucky Agriculture Department spokesman Sean Southard wrote in an email.
But Furnish believes requiring a contract before licensing would help curb oversupply.
"It's crazy what's going on out here," he said. "Farmers are being told they're going to clear $50,000 to $100,000. That's not even feasible in today's circumstances."