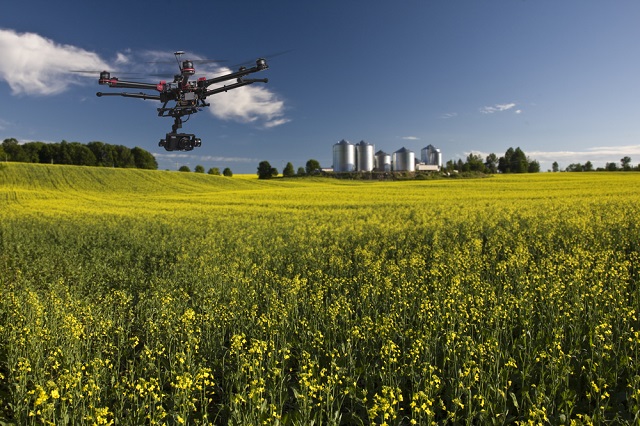 Deveron UAS Corp. (CVE: DVR) a publicly traded company in Canada is growing a network of drones utilized for large scale agriculture data collection.
The data is used for accuracy to increase crop yields and reduce farming application costs:
The service process begins with one of Deveron's drones equipped with agriculture imagery software.
The drone flies over a region within a farm's property.
During the flight, the drone collects data samples that can identify regions of concern during developing crop stages.
The imagery can display where crops need more water, fertilizer, soil, nitrogen or other required nutrients.
Each drone imagery has specific benefit to the analysis needed based on the type of crop or farmland:
RGB imagery: Similar to Bird's eye point of view, this format is used to mainly identify tile drainage locations and bare soil analysis.
Near Infrared images: This format is used for vegetable analysis based on variation reflection of light in the image.
Zone Maps: Converted originally from NDVI maps. This format displays high, medium and low plant health responses.
Digital Elevation Maps: A final end product of mapping combined using data and GPS information. A producer can use this information to plan for drainage and to help understand to movement of water, fertilizer and soil on their fields.
Drones utilized for large scale agriculture
Deveron's drone service is the solution to improving crop yield and reducing input costs. For example, when wheat is damaged over the winter, rather than adding nitrogen to the entire field in trying to save the wheat, UAV analysis could suggest targeting only certain areas of the field. Nitrogen can cost around $200 per acre and if applied to areas where it's not needed, it can become a costly mistake for the farmer.
In order to achieve the best crop results, the drone services are used to increase production, increase profitability, enhanced environmental protection, and improve sustainability. The fertilizing criteria used for best results is the 4R concept which incorporates the Right fertilizer source, at the Right rate, at the Right time, and in the Right place.
Deveron's software enables farmers to access to cheaper information that addresses the 4R concept like never before in agriculture with the ability to pin point needs on different parts of the property fast, efficiently and less expensive than conventional means.
Based on a recent study released by Statistics Canada on Agriculture and the Environment, excess moisture caused 55 percent of the crop losses in Manitoba from 2005-2014. Deveron aims to combat these losses by providing their service to famers with early detection and giving them the ability to monitor their crops on an ongoing basis.
In 2016 and 2017, Deveron UAS Corp. (CVE: DVR) accomplished many milestones in the agriculture drone space:
National Approval to Operate Drones Across Canada. The highest level of approval under Transport Canada regulations related to drone activities.
Received Compliant approval using the senseFly eBee UAV system.
Leading in agriculture commercial drone use with over 500 flights and 1,000,000 Data points in 2016.
Over $2 million in recent funding.
Multi-year contract established with Thompson LTD. (Ag Retailer that has been in business since 1924).
During 2016 relationships were built with some of the largest farming companies nationally.
Management team consisting of licensed pilot, farm owner, and individuals with extensive financial backgrounds.
Expansion outside Ontario to the heart of Canada's agriculture centre Saskatchewan, Alberta, Manitoba, and also California.
Intensively targeting 400 million acres of farmland in North America.